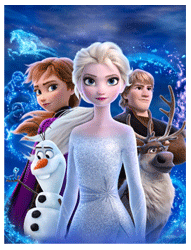 Frode Fjellheim's opening song "Vuelie" for the first "Frozen" movie is used in several places in the second movie, including at the end of the trailer below. In addition, he has made a new song, "The Reindeer Circle", also performed by the choir Cantus from Trondheim.
The movie is also available in Northern Sámi language: "Jikŋon 2".
Why was Elsa born with magical powers? What truths about the past await Elsa when she goes into the unknown, to the enchanted forests and dark seas beyond Arendell? The answers call for her, but also threaten her kingdom. Together with Anna, Kristoffer, Olaf and Svein, she embarks on a dangerous but remarkable journey. In Frost, Elsa was afraid that her powers were too much for the world. In Frozen 2, she must hope that they are enough.