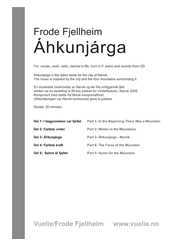 Our selection of sheet music available for download is constantly increasing.
The latest addition is this: Áhkunjárga
A musical description of Narvik and the four surrounding mountains. The work was a commission for the 50th anniversary of the Winter Festival Week in Narvik 2006. Composed with support from the Norwegian Composers' Fund. The premiere was Narvik municipality's gift for the anniversary.