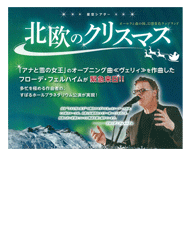 Frode Fjellheim and Hildegunn Øiseth are going on a 2 week tour in Japan this Christmas!
Frode Fjellheim has previously toured in Japan with Ulla Pirttijärvi. Now he goes with Hildegunn Øiseth to hold concerts in Tokyo, Osaka, Kyoto and Shiga. On this tour, the Japanese audience will experience yoik, goat horn, neverlur and music from both Fjellheim´s and Øiseth´s CD-utgivelser. As part of the tour, there are also press conferences and promotions of Fjellheims yoik-inspired compositions for choir - including the opening track of the Disney movie "Frozen"; "Vuelie".
The tour is arranged by Harmony Fields - who specializes in presenting Nordic culture in Japan.