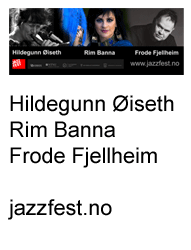 Konsert lørdag 9. mai, under Jazzfest i Trondheim.
The concert is a musical meeting between Rim Banna's Arab tradition, Frode Fjellheim's yoik, Hildegunn Øiseth's goat horn, and a hefty musical wrapping reinforced by Snorre Bjerck on percussion and Mattis Kleppen on bass.
The music will be taken from Rims, Frodes and Hildegunn's CD releases - presented in a special version for Jazzfest in Trondheim!
The audience will meet Frode Fjellheim's distinctive and powerful church music-inspired compositions, Hildegunn Øiseth's distinctive trumpet and goat horn playing and Rim Banna's unique voice.
Together they will create something completely new! Something that will touch, capture and fill the church room with primordial power, pain, joy and beautiful moods!
Foto fra konserten: Stein Grebstad