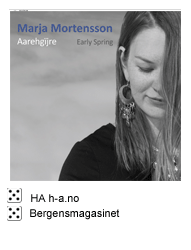 Marja Mortensson: Debut-CD/Album, release April 10th 2017.
Take note of the name! Her name is now on everyone's lips when Sámi artists are the topic
She has performed for the King of Norway, toured in Japan, contributed to large TV-productions, collaborated with The Norwegian Radio Orchestra, Mari Boine, Kirsten Bråten Berg, Ronnie Le Tekrø – just to name a few.
Her debut album is now ready: Aarehgïjre – Early Spring. The album is produced by Frode Fjellheim, and with a dream team of musicians, this debut launches a world artist to be seen and heard in the years to come.
The 22-year-old is based in the Sámi yoik tradition and writes lyrics in the South Sámi language, which she combines with a rarely seen singer/songwriter talent.
Most of the material on the album is composed by Marja herself. One is easily impressed by her ability to create music music which will transcend our time. She possesses a voice which is both beautiful, unique and remarkable, and no one is left untouched when experiencing her in concert.
So please enjoy this rare talent in her early spring: Aarehgïjre!
Available for download (iTunes) and streaming (Tidal/Spotify) and CD from April 10th 2017.

Marja Mortensson: lead vocals
Snorre Bjerck: percussion
Ida Gormsen/Christo Stangness: bass
Ole Tveit Hana: electric guitar
Øystein Sandbukt: acoustic and electric guitar
Daniel Herskedal: tuba/bass trumpet
Frode Fjellheim: keyboard and backing vocals
Sissel M. Bergh: backing vocals
Tidal
Spotify