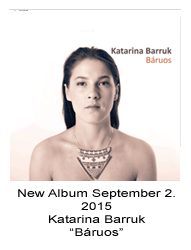 Katarina Barruk: Ny CD med release 2. september 2015
Katarina Barruk has already established herself as an exceptional Sami artist on the Nordic music scene. She composes her own music, and although her genre is close to the pop, rock and singer/songwriter traditions, her music clearly stands out from the crowd by her usage of the Ume Sami language.
She also includes elements from the Sami yoik tradition, a factor which contributes strongly to the unique sound of the production.
Available here: iTunes, Spotify, Tidal, Apple Music etc. from September 2nd 2015.

Katarina Barruk: lead vocals
Snorre Bjerck: percussion
Mattis Kleppen: bass
Ola Buan Øien: electric guitar
Hildegunn Øiseth: trumpet
Jonas Knutsson: saxophones
Sveinung Lillebjerka: violin
Frode Fjellheim: keyboard and backing vocals
Marja Helena Fjellheim Mortensson: backing vocals 

 
Tidal
YouTube

Spotify