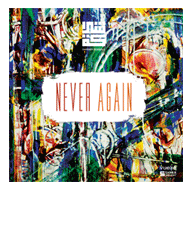 Sharaka Ensemble New CD; release April 24 2015
Sharaka Ensemble is a unique collaboration between Norwegian and Palestinian musicians! The music is inspired by both Norwegian and Arabic tradition, but developed further into something unique and powerful. It is full of contrasts, but still gives a hint of a number of similarities, and a nerve that connects the two cultures in a spellbinding way!
Hildegunn Øiseth: trumpet, goat horn and backing vocals
Tareq Abboushi: buzuq and backing vocals
Ingrid Kindem: keyboard
Mohamed Najem: clarinet and nay
Mattis Kleppen: bass guitar
Isam Natsheh: vocals
Charlie Rishmawi: oud and electric guitar
Hans Hulbækmo: drums and mouth harp
Samer Jaradat: percussion
Rafia Oradi & Mahmoud Awad: backing vocals on Al Maya


Frode Fjellheim: additional keyboard on Never Again and Sharaka
Tidal
Spotify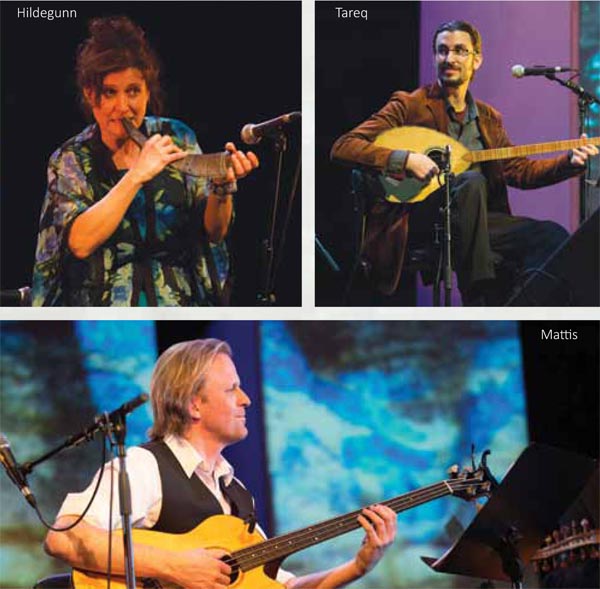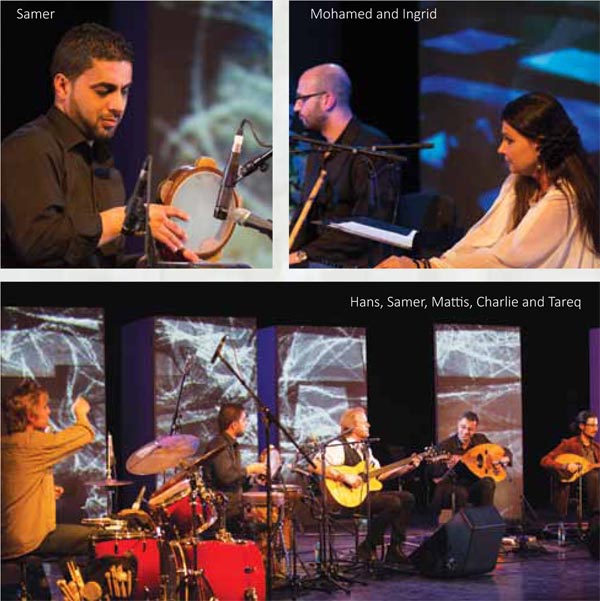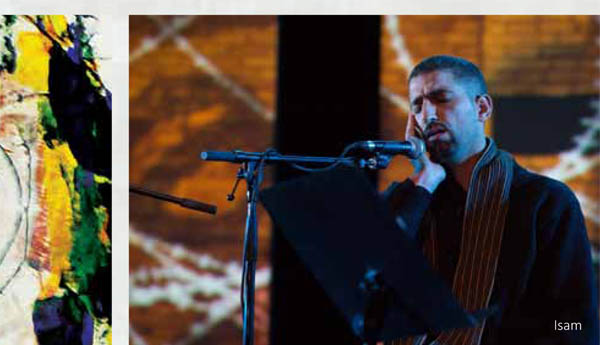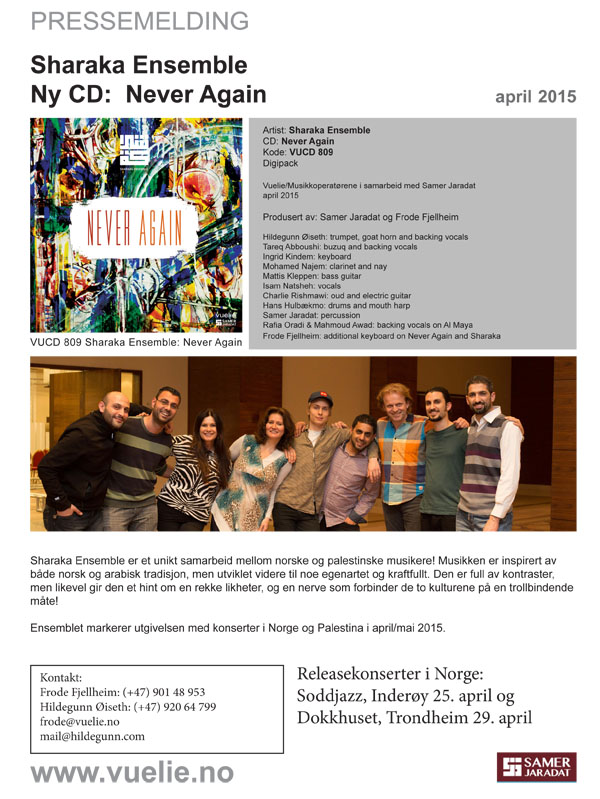 Hildegunn Øiseth plays goat horn, trumpet and neverlur. She is the musical director of the Sharaka Ensemble in collaboration with percussionist Samer Jarada from Ramallah. Hildegunn has since 2002 done many musical collaborative projects in Palestine, and received the Ramallah scholarship from Trondheim Municipality in 2014 for the work with the Sharaka ensemble.
The hand-picked Norwegian artists have a point of view both in tradition and a modern expression. Bassist Mattis Kleppen, video artist Pekka Stokke, DJ and keyboardist Ingrid Kindem and percussionist Hans Hulbækmo have all contributed their own artistic expressions. Jaradat has brought together Palestinian master musicians Tareq Abboushi and Charlie Rechmaoui who play the traditional Arabic percussion instruments bouzouk and oud. This is spiced with vocal art by Issam Al Natsheh. Mohammad Najam plays viurtuost and passionately on both nay (Arabic flute) and clarinet.
834 / 5 000 Oversettelsesresultater Sharaka Ensemble was gathered in Ramallah in March 2014. Within 3 days, the entire repertoire was rehearsed without any written music. At the same time, Pekka Stokke produced visual art with his motifs from the wall and the situation in Ramallah. The concert in Ramallah with top quality sound, light, video projection and with self-produced props, was adventurous. When the Palestinian artists were not allowed to pass through checkpoints due to the tense political situation, the ensemble focused more on studio production than live concerts. We managed to record all the songs to a full CD production in 1 1/2 days. All the artists worked dedicatedly and efficiently. That's why we succeeded so much in such a short time. The concert was recorded with several Camcorders in addition to audio recordings. A documentary from the whole week was also recorded.
Sharaka Ensemble can now present their very first CD; Never again. It was recorded in Sabreen studio in Jerusalem, mixed and mastered by Frode Fjellheim in Transjoik studio in Trondheim.