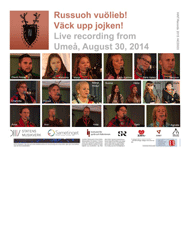 Live from the concert August 30 2014, Umeå:
Russuoh vuölieb! Väck upp jojken! (Wake up the joik)
Ett revitalieringsprojekt i regi av Såhkie - Umeå sameförening
Project purpose and goals:
We wanted to take care of the, for Sami culture, so important treasure of yoiks that can be found in several archives around Sápmi, as well as engage younger yoik artists working to find old yoiks that are waiting for new interpreters.
Därför fick yngre jojkare i uppdrag att med stöd av erfarna jojkare/mentorer och arkivarier leta fram jojkar, tolka och sedan uppföra dem vid en stor konsert med traditionell och nytolkad jojk. Mentorerna och jojkarna täcker in en stor del av Sápmi i Sverige, Norge och Finland och därmed framfördes jojkar på flertalet av de tio samiska språkvarieteterna.
Mentorerna var: Frode Fjellheim, professor i musik Høgskolen i Nord Trøndelag (HiNT), Norge. Cecilia Persson, stipendiat i jojk med stöd från Norska Sametinget, Sverige. Biret Álehttá Mienna, jojkare och pedagog, Karasjok, Norge, Jörgen Stenberg, jojkare, artist och renskötare, Malå, Sverige och Ulla Pirttijärvi, jojkare och artist, Utsjoki, Finland.
Konserten var del av invigningen av årstiden Tjakttjagiessie – Höstsommar i Umeå 2014:s kulturhuvudstadsprogram lördagen den 30 augusti i Umeå.
Samarbetspartners var DAUM i Umeå och DFU i Uppsala, Åarjelhsaemien Teatere, Høgskolen i Nord Trøndelag och SR/Sameradion. Projektet stöddes av Statens Musikverk, Umeå2014, Sametinget och Samerådet.
Projektansvarig: Michael Lindblad, ordf. Såhkie - Umeå sameförening
Projektledare: Eva Conradzon, Såhkie - Umeå sameförening
Arkivkoordinator: Staffan Lundmark, DAUM
Ljudupptagning: SR/Sameradion v/Jim Daunfelt Klipp/redigering: Frode Fjellheim/HiNT
Foto: Peter Steggo, Marica Blind och Biret Álehttá Mienna
Utgivning: HiNT - Høgskolen i Nord-Trøndelag HiRCD003 Hint Records 2015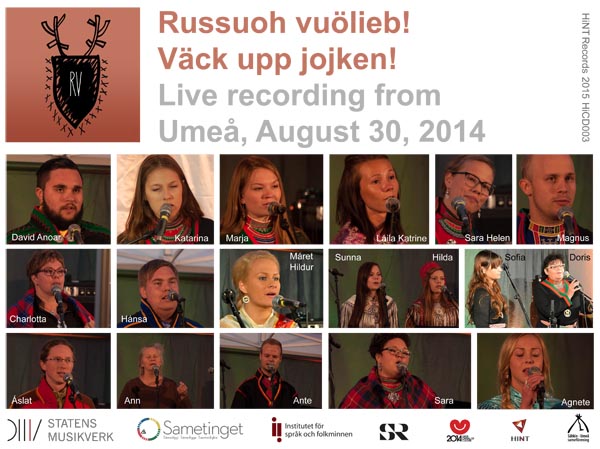 Jojkare
Doris Risfjell
Sofia Andersson
Charlotta Kappfjell
Sara Helen Persson
Hánsa Máhtte Korpi
Áslat Niilonpoika Holmberg
Hildá Länsman
Sunna Länsman
Ann Salomonson
Ante Kuoljok
Magnus Antaris Sandström
Sara Ajnnak
Agnete Båtnes Braaten
David Anoar Rifay Holmestrand
Máret Hildur Stueng
Láila Katrine Holmestrand
Marja Helena Fjellheim Mortensson
Katarina Barruk

Mentorer:
Cecilia Persson
Ulla Pirttijärvi
Biret Álehttá Mienna
Frode Fjellheim
Jörgen Stenberg

Konferencier på konserten:
Krister Stoor

Listen on Wimp