Sheet music with a new approach to Sami music.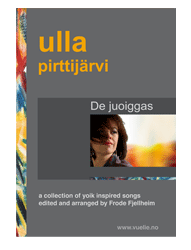 Ulla Pirttijärvi har i mange år vært regnet som en av de fremste utøverne innen samisk musikk. Hennes CD-utgivelser i samarbeid med Frode Fjellheim har vakt oppsikt både her i Norden og ute i verden. De har turnert i Europa, USA, Canada og Japan og høstet lovord for en musikk som treffer mennesker - uavhengig av språk, kulturell bakgrunn og sjangerpreferanser. Gjennom dette noteheftet får du selv muligheten til å framføre Ullas musikk - på din måte. Og samtidig bidra til å eksponere samisk musikk i nye omgivelser.
Du kan kjøpe heftet fra oss, eller se noen få eksempler via denne linken. Betingelsen er at du registrerer deg som medlem av våre sider.
Ulla er også en mye brukt foredragsholder og inngår ofte som bidragsyter i HiNTs tilbud; Med joik som utgangspunkt.
Se smakebiter fra heftet here (krever at du registrerer deg som medlem av vuelie.no), eller bestill fra oss gjennom vår nettbutikk under. Levering fra ca. 26. nov.
[eshop_addtocart]