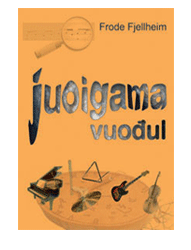 Frode Fjellheima rabmojuvvon girjji gávdno dál maid davvisámegillii!
Dieđusge oahpat juoigat! Muhto don oahpat maiddái nohtaid, musihkkateoriija, komponerema, arrangerema, jietnageavaheami ja olu, olu eambbo. Ja visot lea juoigama vuođul.
The critically acclaimed book by Frode Fjellheim is now available in Northern Sami!
The Norwegian version is already in use in a number of schools where students learn music in an intuitive, fun and motivating way - based on yoik!