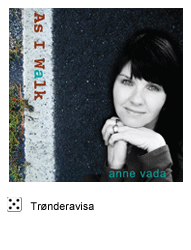 Available as CD, digital download and streaming now!
"I have always tried to renew myself and find other paths than I have gone before. I am an emotional artist, and with my 8 CD releases have embraced many styles. But, what did it take to unite everything I have done, and create my very own Vada sound?
I met Frode's yoik! "
Anne Vada
Vocals: Anne Vada
Synth and vocals: Frode Fjellheim
Percussion: Snorre Bjerck
Trumpet and goat horn: Hildegunn Øiseth
Bass: Mattis Kleppen
Choir: Randi F. Lundemo and Elisabeth Silseth

Produced by Frode Fjellheim
Mixed and mastered in Transjoik studio, Trondheim 2015
Tidal
Spotify
| | |
| --- | --- |
| | |
| NRK Trøndelag 16. april | NRK P1 pluss 16. april |
"Ur-pop" (ancient pop) from Anne Vada and Frode Fjellheim
They call it pop music, where both the lyrics and the music have old roots, produced into a modern soundscape. This is Anne's eighth album. She has always sought out skilled partners such as Ronni Le Tekrø, Rolf Løvland, Iver Kleive and now Frode Fjellheim. You certainly know Frode from the band Transjoik and of course as a composer of the opening track of the Disney film "Frozen".
The collaboration started through Frode being on Anne's latest album "Det evige sekund". They also did a number of concerts, and started the process of making completely new music - "ur-pop" - which is now available on the album "As I Walk".
The music is inspired by both yoik and other traditional music. The lyrics are Anne's adaptation of various traditional/old texts and thoughts about being on a journey in life.
Together with Frode Fjellheim on keyboards and yoik, Snorre Bjerck (percussion), Hildegunn Øiseth (goat horn and trumpet) and Mattis Kleppen (bass) contribute. They create a completely new "sound", where Anne's communication and beautiful voice shine in a new landscape.