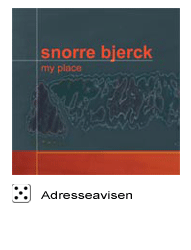 This is Snorre Bjerck's debut CD, a terrific production where the groove, vocal elements and an intense nerve create world music you have never heard before. On sale from October 24, 2006.
Those who are interested in world music may have experienced this fantastic percussionist on stage - either in the group Transjoik - or in one of his own projects. He has developed a distinctive style where his treatment of percussion instruments from around the world, distinctive vocal use and electronics merge into a wonderful mix. This CD is his debut as a solo artist.
Snorre Bjerck has traveled extensively in large parts of the world, and gathered impulses from both folk music and urban environments. On this CD you can hear his unique sound recordings from Europe, Asia and Africa. These are used as mood elements in a terrific production where groove, vocal elements and an intense nerve create world music you have never heard before. Snorre has invited the yoiker Ingor Ántte Áilu Gaup and the Swiss bassist Mich Gerber as guests. The CD is produced by himself with the help of Transjoik colleague Frode Fjellheim.
Snorre Bjerck (percussion, vocals and synth)
Mich Gerber (double bass)
Ingor Ántte Áilu (yoik)
Frode Fjellheim (additional synth)
Tidal

Spotify

Mangfoldig verdensmusikk
Transjoiks trommeslager slår ut i full blomst.
Anmeldt av Tryggve Lundemo - Adresseavisen
Snorre Bjerck har i mange år vært en fascinerende trommeslager i Transjoik, der han og trommekollega Tor Haugerud lager pulserende grooves med utgangspunkt i joik. Når Bjerck nå debuterer som soloartist med produsenthjelp av Frode Fjellheim, viser han at han har et enda bredere spekter å spille på.
En viktig ingrediens i mange av de åtte låtene er ymse lydopptak fra ulike steder på kloden. Bjerck har tatt opp lyder på flyplassen i Abu Dhabi, sentralstasjonen i Milano, i Pakistan og Marrakesh. Dermed får man en liten pekepinn om det store mangfoldet som preger dette albumet.
Bjerck synger, spiller ulike perkusjonsinstrumenter og benytter seg av ny elektronikk. Han reiser ubesværet fra Afrika til Asia og til Sameland, der han bruker joikeren Ingor Antte Ailu. Selv om mange ulike impulser ligger til grunn for denne musikken, klarer likevel Bjerck å sy det sammen slik at albumet får en fin helhet. Et par ganger flyter det litt ut, men en sterk puls og mange ulike rytmer gjennomsyrer det meste av albumet. Dermed får «My Place» det vi i mangel av bedre ord pleier å kalle sug og trøkk.
HØYDEPUNKT: «It Love» og «The Moon From Both Sides».