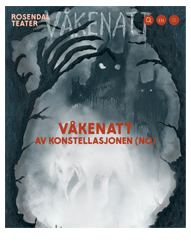 Frode Fjellheim has created the music for "Våkenatt", an interactive all-consuming experience for tweens between the ages of 10-13.
"Våkenatt" ("Vigil"), is an more of an experience than a show. A place to find a way, a place to get lost. We are proud to present an alternative Christmas experience for an audience that does not have an abundance of cultural offerings - those who are between being children and being youths.
In the old days, humans lived side by side with supernatural beings. Just as obvious as learning to swim, whistle and eat with a knife and fork was the knowledge of how to protect yourself if you met an underground creature.
Especially far to the north, where the time of darkness captures every ray of sunshine, and only the moonlight lights up and casts shadows that reveal figures from the presence of the spiritual world. Sneaking around the corner of the house, lurking at the edge of the forest or breathing down the chimney.
Who were all these creatures? What did they look like? What did they want? And where are they now?
Many adults dismiss this as old superstition, but do they know this for sure?
Because: Do we really know what's hiding out there in the dark? Konstellasjonen (The Constellation) makes it their business to investigate the matter while marking their tenth anniversary with the production "Våkenatt", which is also their tenth production. The performance is developed for the age group 10-13 years - popularly called tweens - and fits into the series of performances produced by Konstellasjonen, with a precise target group aim as an important premise in their exploration, creation and implementation.
Various forms of expression are at the core of all the performances by Konstellasjonen, and in "Våkenatt" they take their visual, expressive and theatrical expression further into an interactive and all-consuming experience.
| | |
| --- | --- |
| CONCEPT AND IDEA: | Konstellasjonen AS |
| DIRECTION: | Morten Røsrud |
| KOSTYMER: | Berit Haltvik With |
| SCENOGRAPHY: | Jenny Hilmo Teig |
| LIGHTING DESIGN: | Kristoffer Hjulstad |
| MUSIC AND SOUND DESIGN: | Frode Fjellheim |
| PLAYWRIGHT: | Kristofer Grønskag |
| TECHNICAL AND SCENE CRAFTSMEN: | Kristofer Hjulstad og Lars Daniel Hjelde |
| SPECIAL EFFECTS, PROPS AND MAKE UP: | Leo Thörn |
| SPECIAL PROPS AND PAINTER: | Frida Vige Helle |
| PRODUCTION ASSISTANT: | Mari Moe Krysinka |
| PERFORMANCE PHOTO: | Nicola Lolli |
| IN COLLABORATION WITH: | Turnéteateret i Trøndelag og Rosendal Teater |
| WITH THE SUPPORT OF: | Norsk kulturråd, spenn.no, Trøndelag fylkeskommune, Trondheim kommune, Fond for utøvende kunstnere, komponistfondet og Fond for lyd og bilde |